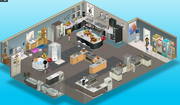 Ace's Appliances
was a shop in SmallWorlds that got removed on the April update, but returned for a week in July 2013 as a part of Appreciation Month.
It was a Kitchen and Bathroom store, which sold all things related to kitchens and bathrooms. You could even interact with the items by double-clicking them!
Items Sold
The items that Ace's Appliances used to sell are:
"Luxe" Bathroom Range
Luxe bathroom cabinet
Luxe bathroom drawers
Luxe bathroom sink
Hair brush
Luxe lilies vase
Luxe tulips vase
Luxe flower vase
Luxe toothbrush holder
Luxe soap box
Luxe make-up mirror
Luxe wall mirror
Luxe hand towel holder
Luxe toilet
Luxe toilet roll holder
Luxe toilet brush
Luxe towel rail
Luxe laundry hamper
Luxe spa bath
Luxe multi-jet shower
Rubber ducky
Hairspray
Conditioner
Shampoo
Luxe ceiling light
Luxe bath mat
"Bathroom" Bathroom Range
Bathroom sink unit
Bathroom unit
Washing machine
Shower
Deluxe bath
Toiler
Deluxe bathroom sink
Bath
"Master Chef" Kitchen Range
Master Chef pantry
Master Chef dishwasher
Master Chef wall unit
Master Chef gas range
Master Chef kitchen sink
Master Chef bench corner
Master Chef bench counter
Master Chef bench cupboard
Master Chef refrigerator
Master Chef bar stool
Master Chef utensil set
Master Chef kitchen light
Master Chef pan rail
Salt pepper vinegar set
Sugar jar
Tea jar
Coffee jar
"Country" Kitchen Range
Country kitchen unit
Country kitchen sink
Country counter corner
Country drawers
Country gas cooker
Country deluxe gas cooker
Country cupboard
"Marble" Kitchen Range
Marble kitchen unit
Marble counter corner
Marble kitchen sink
Marble copboard
Marble deluxe gas cooker
Marble drawers
"Modern" Kitchen Range
Rangehood
Standard refrigerator
Standard microwave
Deluxe refrigerator
Bar hatch
Gas cooker
Bar counter corner
Kitchen sink
Bar counter
Bar counter cupboard
Deluxe gas cooker
Cooking utensils
Wok
Coffee machine
Silver toaster
Food processor
Ketchup
Knife block
Cooking pan
Cooking pot
Corn cob
Gravy boat
Cranberry sauce
Food
Steak dinner
Roast chicken
Soda can
Lange roast turkey
Root beer pint
Bottle of bubbly
Vegetables bowl
Fruit basket
Other
Yucca
Mini poster
Poster
Kiosk
Bar stool black
Glass divider
Glass dicider corner
Cornucopia
Ad blocker interference detected!
Wikia is a free-to-use site that makes money from advertising. We have a modified experience for viewers using ad blockers

Wikia is not accessible if you've made further modifications. Remove the custom ad blocker rule(s) and the page will load as expected.