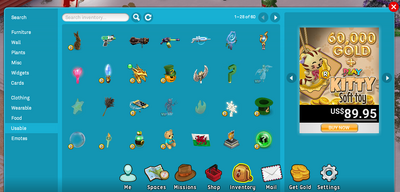 The
Inventory
is a crucial aspect of SmallWorlds. It holds the player's items if they aren't placed in their spaces.
It is sorted into 11 different sections:
Furniture
Wall
Plants
Misc
Widgets
Cards
Clothing
Wearable
Food
Usable
Emotes
Tips
If you search "Rare", all Rare items in your inventory come up, likewise for Seasonal items.
Ad blocker interference detected!
Wikia is a free-to-use site that makes money from advertising. We have a modified experience for viewers using ad blockers

Wikia is not accessible if you've made further modifications. Remove the custom ad blocker rule(s) and the page will load as expected.